Diner Restaurant Table Installation
Classic retro metal edge diner restaurant tables. Black, White, Red and Betty Boop Diner Dining Room. Competively priced grooved aluminum edge restaurant table tops.
Retro restaurant tables made in the United States.

Click To Return To Diner Tables Main Page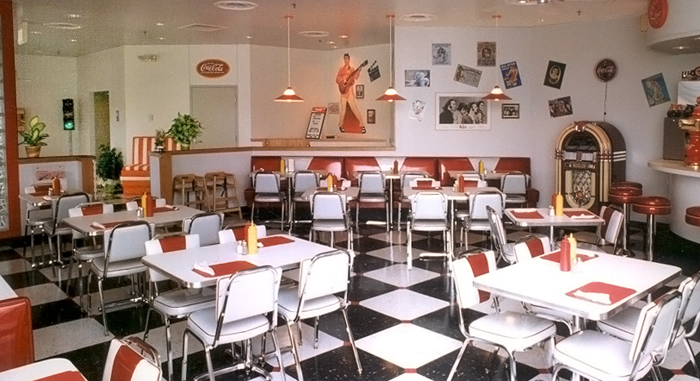 Click To Return To Diner Tables Main Page
Diner Tables Shown Are 24" X 30" and 30" X 42" X 30" High With Optional Chrome Table Bases.


Return to Diner Tables Main Page


Return To Economy Restaurant Tables

Return Home
| Restaurant Tables | Restaurant Chairs | Bar Stools | Outdoor Chairs | Outdoor Seating |
| Restaurant Booths | Custom Cabinets | Waste Receptacles | Cafeteria Seating |
Kurt Petersen P.O. Box 643 Naperville, IL 60566 Telephone 847-692-5458 FAX 847-692-6817
E-Mail: sales@kpetersen.com
Copyright © 1999 - 2017 Petersen Furniture International, Inc. All rights reserved. So there!
We Use DIGIMARC Digital Watermarking in many of our website images.